Discipline: Geology and geophysics
Methodology: Classroom formal training
Duration: 3 days
Language: English*
Instructor: Marcello Badali', PhD
Requirements for attendees: Basic knowledge of sequence stratigraphy, seismic interpretation and carbonate geology.
* Slides are in English. However, upon request, the course can also be held in Spanish, Italian or French.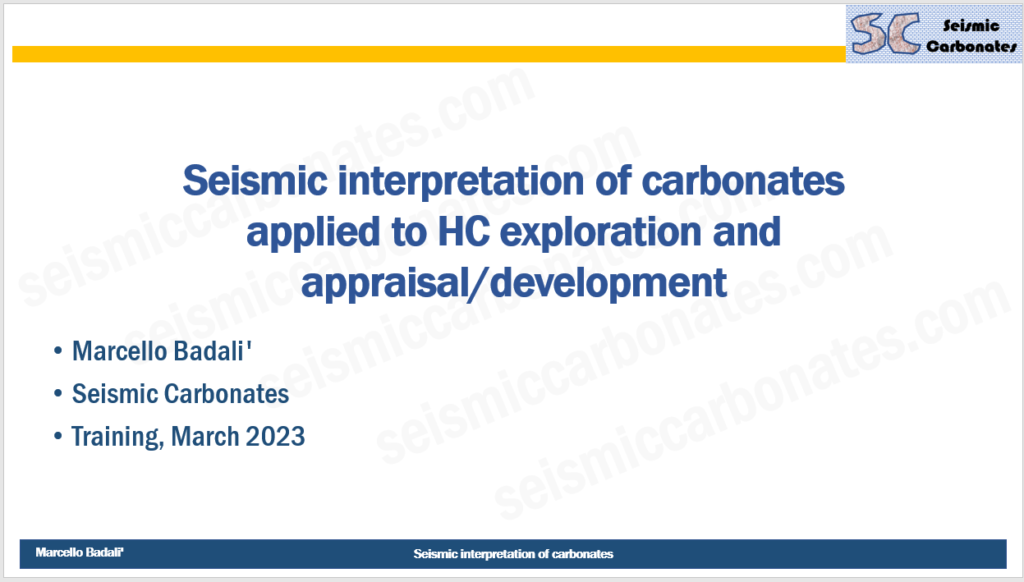 This is a three-day classroom course during which you will learn the most important concepts of carbonate sequence stratigraphy, seismic stratigraphy and seismic attribute analysis which can be applied to hydrocarbon exploitation. The most important carbonate plays will also be disclosed.
This is a hands-on training, more practical than theoretical, in which many real examples will be illustrated and practical exercises will be given. Also, the use of the Carbonate Seismic Scorecard will be explained. The course, if needed, can also be integrated with an initial two-day introduction course on carbonate rocks (carbonate sedimentology, diagenesis and reservoir properties).
The course can also be adapted for non-Oil&Gas disciplines, such as carbonate exploration for CO2 storage or geothermal energy exploitation. 
Special rates can be applied to universities.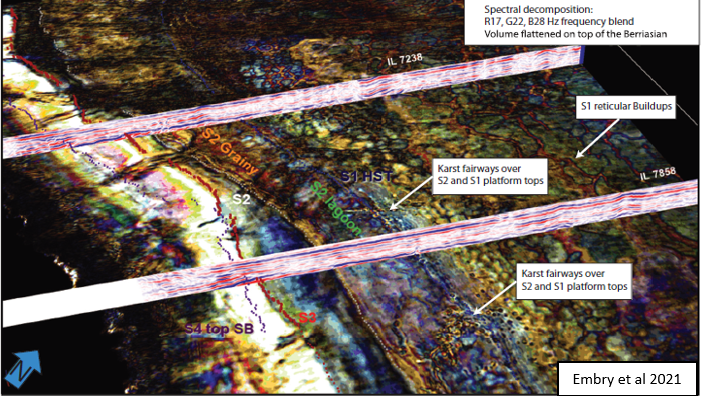 Recognize the most important stratigraphic and diagenetic carbonate plays

Predict reservoir/seal/source distribution in a carbonate depositional setting through sequence stratigraphic analysis of seismic scale sequences and seismic facies interpretation

Recognize main carbonate features on seismic sections and volumes, both at basin and prospect scales.

Avoid misinterpretation of non-carbonate structures (salt, volcanoes etc.)

Use seismic attributes to detect facies, fractures and porosity distribution in carbonate targets

(Optional) Find the right (producing or outcropping) carbonate analog to predict reservoir properties during the exploration phase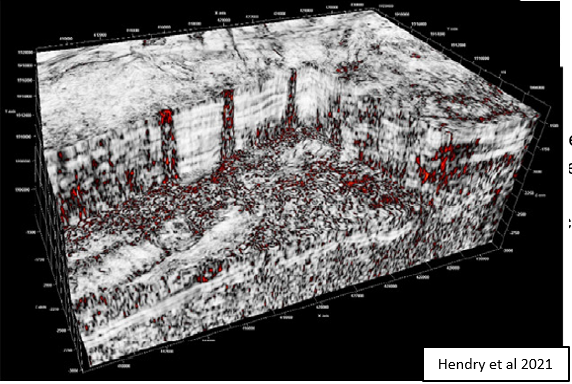 Main carbonate depositional and diagenetic hydrocarbon play concepts

Carbonate sequence stratigraphy applied to hydrocarbon exploitation (reservoir to basin scale)

Carbonate seismic stratigraphy applied to exploration/appraisal/development

What is the Seismic Carbonate Score Card and how can it help us?

Seismic attribute interpretation in carbonate play and prospect study

(Optional) Not all carbonates look alike: How carbonate structures and their seismic expression have changed through geologic time and how this can help derisk carbonate exploration

(Optional) How to find the right carbonate reservoir/play analog in order to help predict reservoir properties and possible production scenarios. How to use public data or multiclient databases to quantify your analog properties.

(Optional) Analysis of internal (exploration to development) cases provided by the client
* All sections are implemented with numerous actual examples and practical exercises